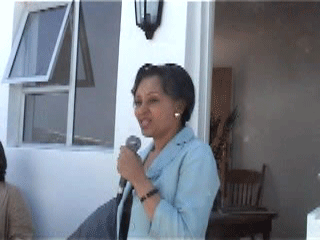 Minister of Housing Lindiwe Sisulu
Welcome to the Webpage of

Sisulu was shown a display house at Pelican Heights, opposite Strandfontein, an area deliberately chosen for its harsh weather conditions. She was shown the outside walls constructed of galvanised steel and polystyrene and an innovative hot water unit in the bathroom. Sisulu said later that her department had invited developers to submit proposals for affordable houses and that the display house was of the type her department would consider. "I'm told this type of house can be build in any area and I don't feel anyone should be concerned that the value of their properties can be eroded. People were promised a better life and it starts with a descent descent house. I now hope we can come with some discussion on pricing soon as the house I have seen is exactly what I need," she said.

Note:

The envisaged cost saving could very well be up to 40% of conventional building costs on bulk orders.

Sisulu said: "I have only so much money to spend on housing and if for example I was to order 500 units, I would like us to look at wholesale prices".

Minister of Housing review

Cape Times Friday 3rd February 2006

Low-cost house prototype attracts Sisulu's interest

Report by: Aziz Hartley:

Housing Minister Lindiwe Sisulu has been shown a prototype of a low-cost house with fireproof walls and an electrical system a car battery could power during a black-out. The housing unit can be built within 12 days and has been approved by S.A. Bureau of Standards.
Copyright © 2007 TEAMS All rights reserved.
Revised: 07/04/07.